The following are different problems you may encounter whenever you work with Taxonomy VTN. Those problems usually have a work around and the following pages tell you about the solutions available to you.
One or two of the taxonomy columns are too wide
It happens that a column in your main display look too wide. Say you use three columns, one may be real large and two are the normal size (1/3rd of the screen.)
In general this happens because you have a URL in one of your description. (If the URL is in the title, I strongly advice that you move it to the description.) Then the description shows up as wide as that URL. Long URLs will have a real bad effect making the column much wider.
There are two ways to solve the problem:
Create a tiny URL, although tiny URLs may still be too big, it may help
Change the settings of the taxonomy description so it accepts HTML and use an anchor with the link
The first solution can use a tiny URL from your site or using a system such as https://tinyurl.com/ (there are many systems now a day, offering this feature.) With a Drupal site, you can use Auto-Path or change your Apache setup to support node numbers without the /node/ keyword (assuming you have a short domain name too.)
For the second option, which makes use of the Taxonomy VTN system, you want to setup the module as follow:
a. Make sure to select an Input format that will allow for links in your taxonomy description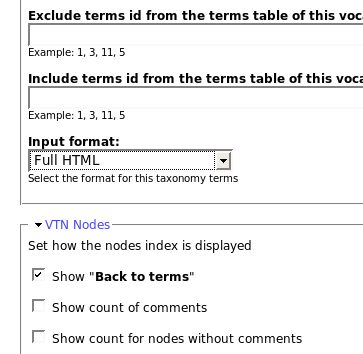 b. Write the URL using an anchor as in: <a href="http://www.example.com/of/long/url">Tiny-name or multiple words that will wrap around as expected.</a>